Pine Mountain Club Patrol
Patrol for the Pine Mountain Club Property Owners' Association monitors the safety of the community by patrolling the neighborhoods and responding to calls by members. The Patrol Office is open 24 hours a day, seven days a week. During non-business hours, the Patrol Office may be locked, however, a Patrol staff member can be reached by calling 661-242-3857.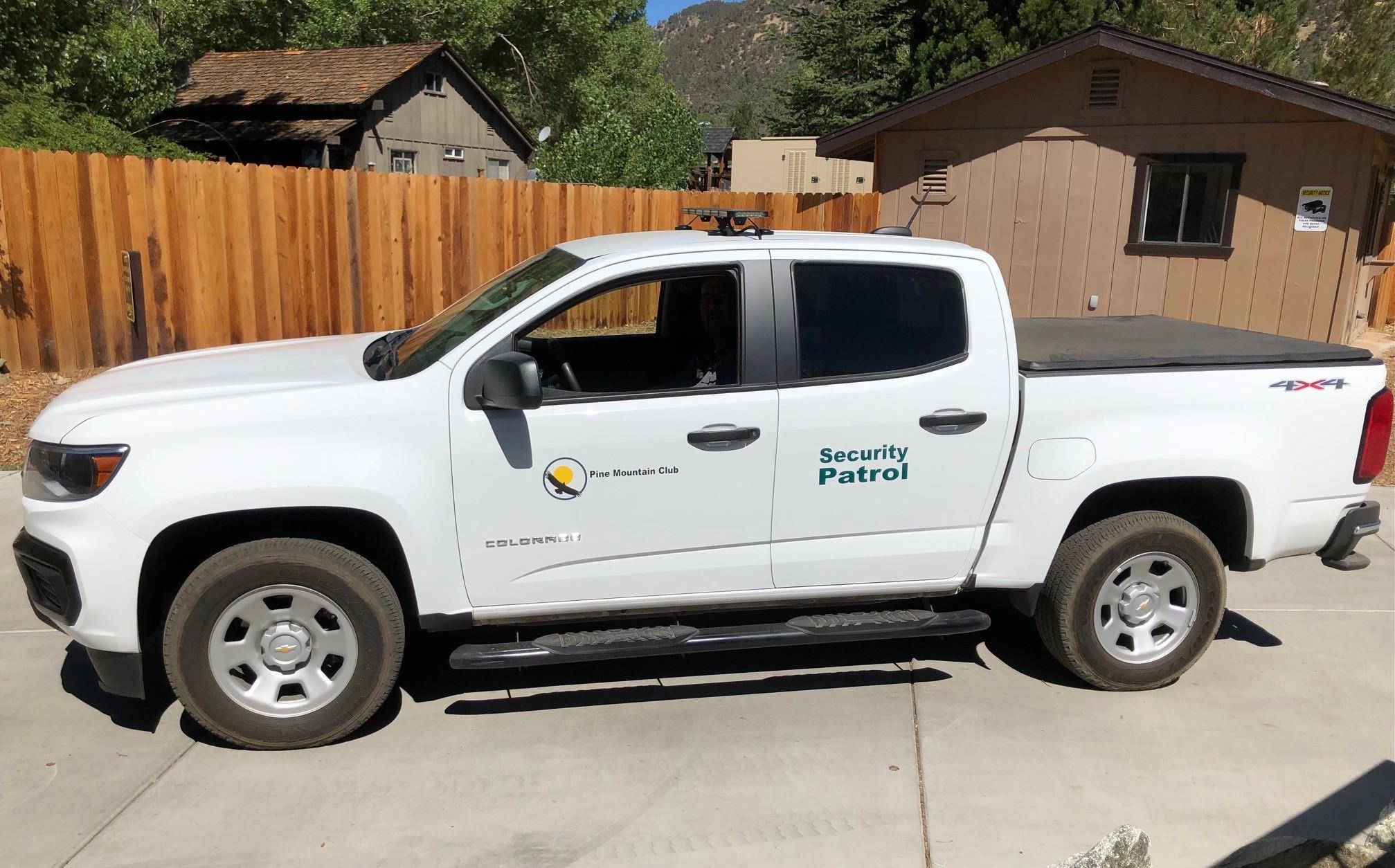 The main objectives of the patrol department are to enforce the association's Rules and Regulations set forth by the governing documents and the CC&Rs, and to protect the association's property. The officers have been made available to assist in minor emergencies (like bear and other wildlife issues, welfare checks, vacation checks) and to obtain needed help from our local first-responder agencies in times of a crisis.
When requested, our patrol officers have assisted local law enforcement agencies with traffic control situations, obtained and documented information, and reported criminal activities. Our officers do not carry firearms and do not possess peace officer powers. Still, they have helped Kern County and Ventura County law enforcement over the years in solving hundreds of local crimes, from misdemeanor to felony offenses. Sometimes, just the presence of the PMC patrol vehicle has and can interrupt or deter a crime in progress.

If members (or guests, tenants, lodgers) observe, suspect or are the victim of any criminal activity that is in progress or has been committed, it is recommended to first call 9-1-1 or directly call the Kern County Fire Department, Kern County Sheriff's Office, or California Highway Patrol to report non-emergencies. After that initial call to fire, law enforcement, or a medical response team, members can optionally call PMC Patrol and our patrol officers may respond to the area to assist or observe and record information to assist law enforcement in their response or potential investigation if requested.

If you are not sure which agency to call to report a non-emergency activity or incident, you may contact PMC Patrol for assistance. Here are a few examples of situations that should be reported directly to 9-1-1, the Kern County Sheriff's Office or the California Highway Patrol; Fire, crimes in progress, traffic accidents, Vehicle Code violations (not specific to PMC rules), gunfire, domestics/domestic violence, civil cases (including restraining orders and landlord/tenant disputes). PMC Patrol does not provide services to the local Commercial Center.

If you would like to authorize PMC Patrol to enter onto your lot for the purposes of verifying that your home is secure, or investigate for any suspicious activity or situation observed or reported by you, a patrol officer, or a neighbor(s), that could result in fire, theft or damage to your property, please click here.

A "Lost and Found" box is located in the Patrol Office. If you believe you have lost something at the Clubhouse, please contact Patrol for more information.

Reminder from PMC Patrol Regarding Domestic Disputes:
Please call 911 FIRST for all domestic disputes. Call PMC Patrol SECOND. Patrol will come to the area but will NOT approach a house where there is a possibility of violence. Patrol is neither trained, nor equipped, to handle these calls.
A recent U.S. Department of Justice report shows that 40% of police officer deaths are related to domestic violence calls. Several studies confirm it is one of the most dangerous calls an officer will ever answer.
Please don't put our Patrol officers at risk by insisting they respond to this type of call.
Thank you, Patrice Stimpson, PMC Patrol Chief
IMPORTANT! MEMBER UPDATE FORM
PLEASE USE THIS FORM TO UPDATE YOUR CONTACT INFORMATION AND EMAIL PREFERENCES
If your PMC home had a fire, flood, burglary, tree fall or other emergency, would PMCPOA be able to contact you? Please ensure the Association office has all your current information and your phone number so you can be informed immediately of any adverse situation that may occur on your property. Call 661-242-3788, or fill out and submit the above form and email it to [email protected], or mail it to P.O. Box P, Pine Mountain Club, CA 93222. This form also contains emailing preferences: If you'd like to receive the Condor by email, want to sign up for the email blasts, and want to sign up for automated emergency notifications if and when they are available, please indicate that here.
PMCPOA Radio Station AM 1610
During inclement weather when the power stays on, you can tune into PMCPOA's radio station, AM 1610, for regular updates, or call 242-3857 after hours for current conditions. The radio station is updated every night around 3-4 a.m. with current weather and road conditions, and more often if we are having a snowstorm because the situation can change quickly. It's a good idea to keep a transistor radio in the house that operates on batteries in case of a power outage.
PMC Emergency Contact Numbers
EMERGENCIES – 911

PMC Patrol – (661) 242-3857

PMC Fire Station – (661) 242-3702

Clubhouse 24-hour line – (661) 242-3788

Kern County Sheriff (661) 245-3440

Poison Control – (800) 222-1222

Bakersfield Memorial Hospital – (661) 327-4647

Henry Mayo Newhall Hospital – (661) 253-8000

Hall Ambulance, Frazier Park, non-emergency – (800) 924-4882

PMC weather & roads – (661) 242-4017

CHP Traffic Accidents – (661) 334-3913/864-4444 (weekends, 864-4400)

CHP Road Conditions/Highway Info – (800) 427-7623

Electrical Outage/Powerline – 800-611-1911

US Forest Service – (661) 245-3449

Kern County Animal Control – 661-868-7100

Mil Potrero Water Company – (661) 242-3230
Please click here for the Mil Potrero Mutual Water Company website.
Water Company pager/emergency – (661) 631-7180
Click here for Forest Service website
Please click here for the Pine Mountain Club Community Emergency Response Team (CERT) web page
You can email the PMC Patrol Chief at 

[email protected]

.